History of Color Art Printing


Early History
Four young friends left Durango Colorado in January 1941 to seek adventures in Anchorage Alaska. They were all 19 to 21 years old. None of them knew what they'd find in Alaska and none of them intended to stay long. It was well below zero when they arrived. In spite of the severe weather, the four fell under the spell of the Last Frontier and all four stayed for decades. C.R. Steve Hafling was one of these young men. He immediately felt at home in Anchorage. He decided to stay "for awhile". His first job was as a rough carpenter on Elmendorf Air Force Base. He also joined the city's volunteer fire department. Being out in below zero weather for both jobs, Steve quickly decided that he would be a lot warmer and much happier in a job where he could work inside. During his high school days in Durango, he had worked as a printer after school. This training led him to a job as a pressman working for Bob Atwood at the Anchorage Times. For the next 17 years, he held various jobs at the Times. He worked his way up to business manager. Steve loved the process of printing. He did not love being a business manager because that meant he was at a desk most of the day. He loved solving problems but not necessarily other people's problems. In the late 50s, he began to think about moving back to Colorado to run a weekly paper. He wanted to get back to running printing equipment and wanted to be his own boss.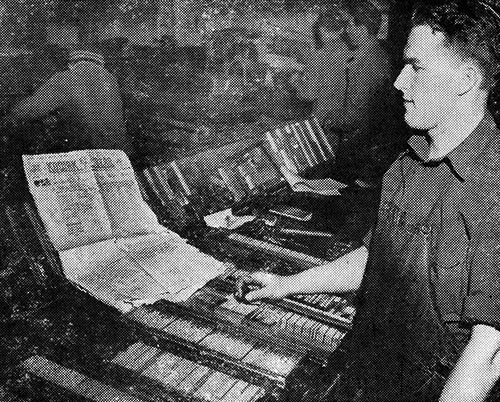 Jane Sprague left Denver Colorado in the summer of 1941 to visit three aunts who lived in Alaska. She intended to stay the summer. Jane, too, immediately felt at home in Alaska. She took a bookkeeping job in the old Federal Building working for the CAA (now FAA). In the fall of 1941 she decided to join a group of friends on a ski train trip to Curry, Alaska. On that train, she met Steve Hafling. Their first date was breakfast together at the Curry Hotel. Shortly after this trip, World War II broke out. Steve enlisted in the Army and was assigned to the signal corps. While "non essential personnel" were sent out of Alaska, Jane's job with a federal agency allowed her to stay.
Being in Alaska at this time was not only quite harsh but also very special. Everyone experienced rationing of goods, black outs of the entire city, air raids and the unknowns that a world war brings. In the middle of this turmoil, Steve and Jane decided to marry on June 6, 1942. The wedding had a total attendance of 5 people, including the bride and groom. It was held in the old All Saints Episcopal Church which was on the corner of 5th and F. They were 19
and 22. Steve and Jane's first apartment was a one room efficiency with a Murphy bed. It was in the Strathlorne building which was across from the church. A short time later they purchased a small house on 7th Avenue between H and I. This was across from what is now the Marriott Hotel.
To help make ends meet and supplement his military pay, Steve worked late shifts at the Times. Jane contributed income by drawing weekly cartoons for the front page of the Times beginning in 1946. Bob Atwood had seen her "doodles" and loved her sense of humor. He talked her into doing the "Review of the Week". She signed the artwork "J Hafling" as no one thought women could be cartoonists in the 1940s. Her cartoons were on the front page of the Saturday edition of the Anchorage Times every week for 18 years.
The family grew to include 3 children, the war was over and Anchorage was growing. Steve and Jane began to think about their future. Steve was restless with his desk job at the Times and the stress it brought. Since Steve and Jane were both originally from Colorado, they thought about returning there for many reasons. In the summer of 1957, they took their children on a trip to Colorado with the express purpose of checking out weekly newspapers for sale in 3 small towns. None of the newspapers or towns were the right fit. They returned to Alaska and weighed their options.
It was a casual meeting at a cafe that changed everything. Steve ran into one of his friends who was an officer at National Bank of Alaska. The friend knew Steve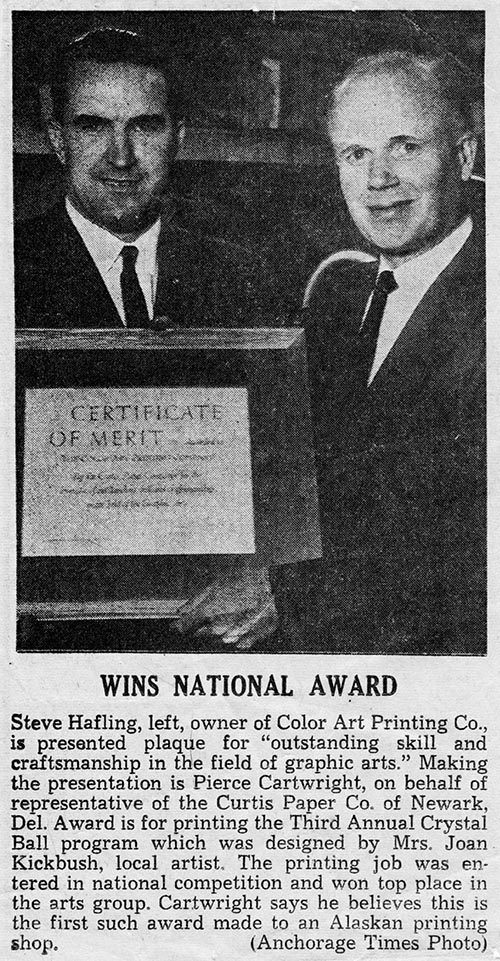 was thinking about buying a weekly newspaper out of state. He also knew of a small print shop recently put up for sale in Anchorage. The shop was Holbrook Printing which was located on 7th Avenue between D & E. This was a residential area with small houses built in the 1930s and 1940s. The piece of property for sale had a very small residence on the front of the lot and the print shop on the back of the lot. The print shop was in a basement. The owner of the print shop was Art Holbrook. At first, he had a linotype and a small press in his living room and ran his shop from his home. He decided he wanted a bigger press and ordered a Meihle Flatbed. It would not fit in the house! He decided to build a basement at the back of the lot, leaving the roof off. He then had the roof taken off of the house. Using cranes, they moved the linotype and small press into the basement. The new Meihle was dropped into place and the roof of the shop constructed. The original shop is still in place with the Hafling Building built in front of it in the mid 60s.
The original basement shop had no curb appeal as it was a true basement with small windows and the doors sticking up above ground. The doors were "decorative" and noticeable – they were painted bright red. The red door was about all the building had going for it. To enter the shop, you had to go up a few steps, open the door and go down a full flight of steps into the shop. In 1958, Steve checked out the shop and saw the possibilities. He took Jane over to see the shop; however, she wasn't as impressed and wondered what they would be getting into. After much family discussion and a leap of financial faith, Steve and Jane bought Holbrook Printing. They changed the name to Color Art Printing and started operating the shop in March of 1958. Steve was the working printer. Color Art Printing "inherited" one employee, Frank Lief, a linotype operator. Jane worked in the office doing customer service and the bookkeeping. She also used her art skills to design many logos and sketches for menus, annual reports and invitations.
The Holbrook residence was part of the purchase and was turned into a rental. One long time tenant there was June Petek and her family. The Peteks were a landlord's dream. They loved to fix up and maintain the premises. June was a wonderful gardener and turned the lot into a beautiful showplace. She also became friends with Jane and Steve. June was looking for part time work at one time. Steve and Jane saw an opportunity in front of them. . June was hired and became the Office Manager and a whiz at customer service. She had a short commute, a fabulous sense of humor and an eye for detail. Nothing left Color Art Printing that wasn't checked over for grammar and spelling by "Junesie". Her handwriting was legendary as every thing she wrote looked like it came out of Palmer Penmanship Textbook. She worked at Color Art Printing for 15 years.
The shop changed from letterpress only when it added a litho camera, darkroom and offset presses in the mid 60s. Over the years, the equipment has kept up with the latest technology and today it is enjoying being part of the electronic age while still offering the craftsmanship going back to its roots.